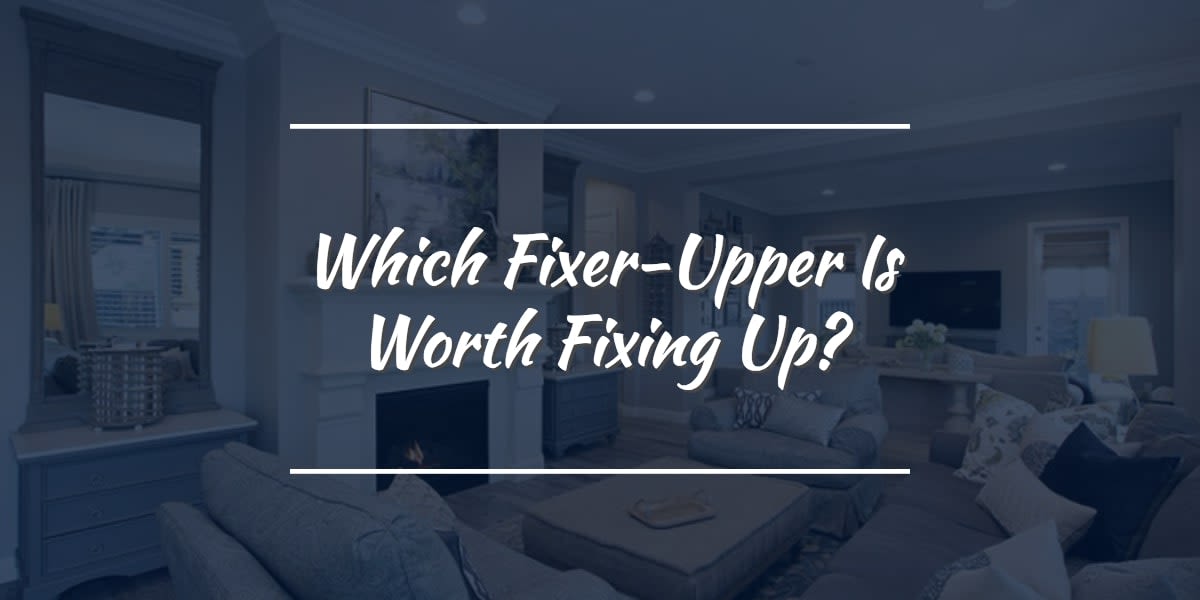 Everyone's different. Some of us are more put together than others — and there's nothing wrong with that! Each of us is, hopefully, working to become the best person we can be at our own pace. Some people, like family members or counselors, can help us along our road to self-improvement. The same is true for houses.
Some houses are ready to live in. Others need some renovation before becoming the best dwellings they can be. And you, dear reader, maybe thinking of becoming one of these houses' guides. You may want to become the person that brings a house back to its former glory and surpasses it to be enjoyed by yourself or its future owner. But not all houses, unlike people, are worth saving. It's sad, I know, but it's true.So I'd like to share 7 things to consider, plan for, and do when figuring out which fixer-upper is worth fixing up.
1. Hire a home inspector to, you guessed it, professionally inspect the house. You might know all the cosmetic renovations you have to make to the home, but an inspector will know what else needs to be fixed or replaced. There could be expensive and necessary fixes hiding in the ceiling and inside the walls that you may not have considered. It could be anything from outdated wiring, to a flawed foundation.
2. Settle on a house that has a good frame and foundation, literally. A solid roof, up-to-date electrical wiring and plumbing, and a good floor plan are other important aspects to look for. Having to repair or change these things is definitely possible, but would be difficult and expensive.
3. Make a budget: This may seem obvious, but it's a sure-fire way to know if you can afford to buy the house in the first place. Account for the full cost of the house and of all the renovations you'll have to make and add a percentage of that amount onto the budget to cover unforeseen costs. Some recommend 12 percent.
4. Renovations take time: plan for the remodel to go on for a long time — even longer than the contractor may have predicted. Consider this when making your initial budget and while weighing the specifics of a loan. In addition, if you're planning to live in the house while it's being renovated, you may have long periods of time without a usable kitchen or bathroom, depending on the scale of the remodeling.
5. Where is the house? I won't say "location, location, location," but I will say that it's important to pick a house in an area with good schools and other desirable qualities.
6. Prepare to make a lot of decisions. Who will you trust to be your real estate agent? Which contractor and home inspector should you hire? Will you take out a loan? What type of loan? Which specific pieces of furniture will you buy? What color will you paint the house? And so on and so forth. Try splitting the decision-making up over time to avoid getting overwhelmed.
7. Be ready for a sense of accomplishment. No matter how simple a fixer-upper project might seem, it will take patience, dedication, and effort to complete it. But once the house is finished, you'll have pride in the home you've given new life to. There's a joy that comes with living in a home you had a hand in finishing to your liking, and, after putting in the work, it'll be well deserved.
I know it may be tempting to settle on the first deal you find for a fixer-upper, but now you have seven things to think about before you do. Hopefully, considering these points will give you a better idea of the project you'd be embarking on with any fixer-upper before you do. So be patient, don't get overwhelmed, and know that I'm here to help if you need it!